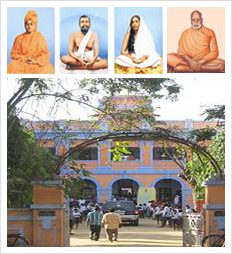 Sri Ramakrishna Tapovanam
Sri Ramakrishna Tapovanam, Tirupparaitturai, Trichy District is an institution working for the educational, spiritual, moral and cultural advancement of Southern Region of Indian peninsula. This institution is managing a number of Educational Institutions in Tamil Nadu. It has branches at Tiruvedakam, Chitrachavadi, Courtallam, Cheranmadevi, Salem, Karur, Pannaikadu, Ramanathapuram, Rameswaram and Tirunelveli. It has been running successfully a residential high school on Gurukula pattern at Tirupparaitturai since 1942 founded by Swamiji Chidbhavananda Maharaj. The Tapovanam is also managing a number of educational institutions at various levels from 'Pre School to Ph.D' for boys and girls, not only at its branch centres but also in many other places in Tamil Nadu. These branches of Tapovanam manage 64 schools and seven colleges besides a community college.
The only service to be done is to give that education by which character is formed strength of mind is increased the intellect is expanded and by which one can stand on one's own leg. So goes the emphatic message of Swami Vivekananda. Inspired by this ideal Swami Chidbavananda, the great saint seer and savant widely known for the power and depth of his spirituality Founded Sri Ramakrishna Tapovanam, Thirupparaithurai near Tiruchirapalli. From the nucleus of the Tapovanam have spread all over Tamil Nadu 14 branches which are dedicated service and spirituality, as embodied in the lives and teachings of Sri Ramakrishna Paramahamsa, Holy Mother Sri Sarada Devi and Swami Vivekananda.
In this stifling atmosphere the work done by Sri Ramakrishna Tapovanam founded by Srimath Swami Chidbhavananda, has to be seen as a fresh gust of pure oxygen–a hope for those suffocating in the dungeons of what is popularly called higher education. The Tapovanam has been spreading the gospel of Sri Ramakrishna and actualizing the dreams of Swami Vivekananda. Its ultimate aim is to uplift the standard of 'Life' not merely 'Living' of the common man. For this uplift, Swamiji's unique lever of operation is the 'Antharyoga' spiritual retreat, which shows the common man the taste of the Infinite. Though such non-formal education can create wonders, large-scale inner revolution is impossible if the existing educational set up is not used as an instrument for transforming the mind of the growing child.